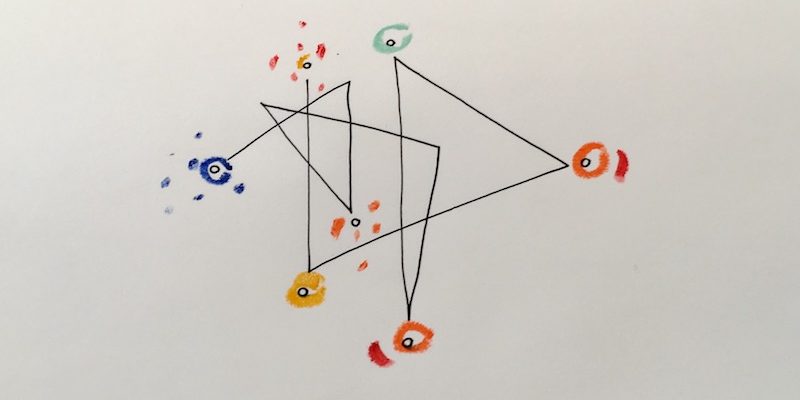 This blog was originally written for Knowmads Business School, Amsterdam.
The curious fly on the wall #1: Why should we co-create education?
Amber Grothe is a sparkly and curious world traveler, artist of life and incredibly on fire about alternative education. She's on a self-led learning journey through alternative education and currently having a look at while being part of the Knowmads family.
You can follow her journey and thoughts in these weekly thoughts she's having about learning at Knowmads. She's open to connecting about anything, feel free to email or call her on: amber.grothe@hotmail.com
+31 634106342
Why should we co-create education?
The co-creation process in education.
A short introduction on my vision of co-creation in learning.
Sometimes, when we grow older, we aren't so sure about what sparkles our heart anymore. Being a child gives us a certain freedom. A freedom to choose from our, where ever it comes from, bubbling excitement. Mostly our minds aren't the dominant part in our process of decision making yet.
So this question came to me: Shouldn't we create life and so education by following this excitement? The longer I keep following this path of excitement, the easier it gets to choose the next step, because so many new doors open that already excite me.
So how does this excitement relate into creating education?
Creating life through excitement.
I think we cannot only do what we deeply love all of the time, as life exists of night and day, joy but also deep felt pain. And we can only feel alive as a 'whole' human when we allow ourselves to feel every part of the spectrum of being. When we allow ourselves subtle practice and with patience, I am convinced that we can create our life through following the breadcrumb trail of excitement.
So let's start with the Knowmads: ''Head, heart and hands.''
I would like to connect creating and co-creating to heart/intuition.
Do you sometimes have this feeling of deeper knowing?
Sometimes you can have a feeling afterwards that tells you something like: ''I knew it, I knew it!!! But I didn't listen.''
I believe this is your intuition, gut feeling whispering to you. To practise being in touch with our heart, head and intuition we have to live.
Fall, stumble and get up again, and allow ourselves to embrace all the things life hands us. Even the shitty and painful ones.
By co-creating we practise life, we live and we practise in following our excitement, but by being connected to Knowmads makes the practice shared and in a kind of safe container to experiment.
You can practice to follow intuition, learn how to create in a team and ask questions about why you should follow a workshop. Or maybe commit for a longer period to something that seems to call you?
Co-creation makes education malleable, flexible and tangible like life is. Working together, creating a web of fellow travellers and trust the knowledge of the trainers and experts.
How would you like to create your own education and, your life?
I'm convinced that co-creating your own education can unleash some trust, confidence and things you could never image yourself to be doing.
And I'm surely enjoying this on going practice.